PAYMENT METHODS
Accept payments with trusted methods that your customers know well: MB WAY, MULTIBANCO References and Bank Card
GUARANTEED SECURITY
A solution with an integrated fraud monitoring and management system, in real–time
AVAILABLE AT FINANCIAL INSTITUTIONS IN PORTUGAL
You can find this solution for your online store in the main Portuguese financial institutions
MANAGEMENT BACKOFFICE
Access for free an online platform that allows you to monitor transactions in your online store or physical terminals, in real time, in one single platform
PURCHASE RECURRENCE
Provide a new feature in your online shop that simplifies the purchasing process for your customers
Optimise your payment checkout
Accept payments quickly and safely and find a solution adaptable to your business and your needs.
The reliable solution of the main Portuguese financial institutions
Get to know the commercial terms
An online payments solution for many types of businesses
Discover a full range of payment options so you can provide your customers with a better shopping experience
QR Code Express
Functionality that allows the merchant to provide payments with QR Codes, without the need of a POS Terminal. It is possible to generate QR Codes corresponding to a product and a fixed amount
One-click payment
The customer authorises the storage of card data as a token for future use of the card in the shop. Use cases: merchants with an online store who wish to save card data for frequent payments
MULTIBANCO References
Allows you to receive payments with MULTIBANCO references in your business, with up to the minute expiration content and real-time payment notification

Authorised Payments
Learn about a feature that makes the customer's shopping experience easier for their frequent, subscriptions or recurring purchases
3
–

D Secure 

Security protocol that allows to identify the user of a specific card, providing a higher level of protection for both merchant and client
Split Shipments
This feature allows partial payments with one single payment authorisation
Marketplace
Centralised fund processing and division platform, especially designed for clients with omnichannel businesses (physical and digital)
COMING SOON
Integration options
Choose the integration that best fits your type of business
Standard Integration
(Payment Form)
Incorporate a SIBS standard checkout, with no need for expert technical knowledge, that you can adapt to the styles of your site simply and quickly
We provide you with all the technical information
Do you want to integrate SIBS payments and just need to receive the technical information? Ask our specialists to send you the information you need to get SIBS Gateway on your site.
Tailored integration
(Server-to-Server)
Create a unique shopping experience for your customer by customising your checkout display to your customer
Get in touch with SIBS integrator partners
Want to integrate our online payments but need help? Get in touch with partner integrators who help our customers to integrate SIBS payment methods.
Plugins
Accept payments on your Woocommerce, Shopify, Magento or Prestashop store
I only need the SIBS Plugin to get started
Already have an e-commerce site and need to install SIBS plugin? Contact us to receive the version of our plugin that fits your needs and we will assist you in the configuration
Keep track of all your business transactions, just one click away
Explore a platform where you can track your business payments in real-time, manage payments, refunds and much more
Centralised Information 
Monitor the transactions, refund processes, peak flow times and all the information about the sales in your stores, in a single platform
POS & Store Management
Manage the operation of all the POS terminals you have in your different stores
Peak Sales Times
If you know the peak sales times, you can better manage resources and staff in your store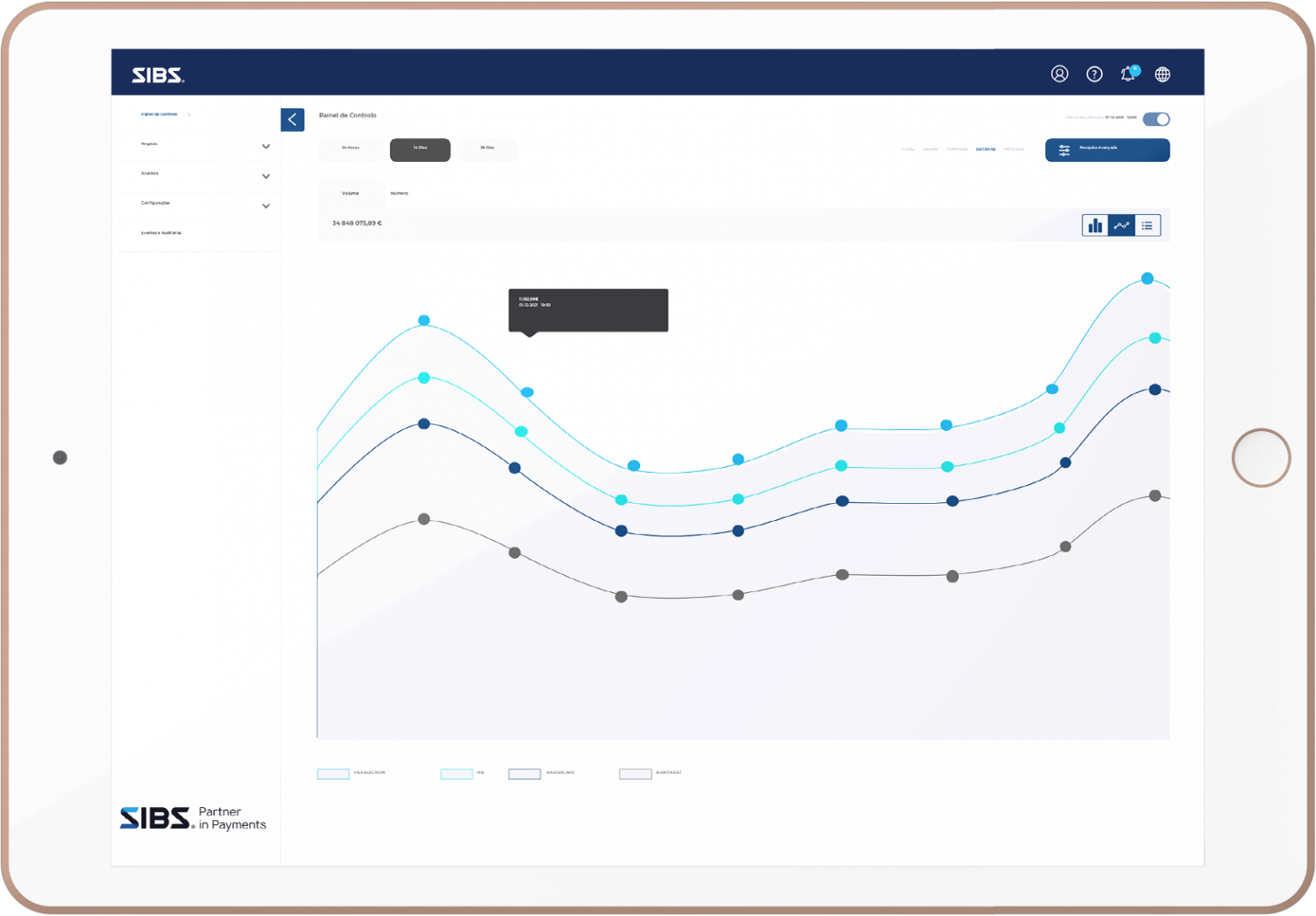 Stay up to date with SIBS Solutions
By submitting your email, you are agreeing to receive electronic communications containing SIBS Solutions news, offers and/or promotions